Web Hosting - Atlanta, Georgia
Once your web site is built, it is "hosted" on a web hosting server. These machines are connected to the Internet 24 hours per day, seven days a week, thus giving your visitors access to your web site at all times. This is the definition of Web Hosting.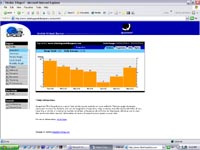 Atlanta GA Web Designers offers highly competitive pricing for Web Hosting in Atlanta. Hosting prices vary depending upon the service delivered. Don't be mislead by cheap web hosting companies that sell their web site hosting based on price alone! Your site needs to be placed on reliable web servers to meet the highest demands of web traffic.
We provide reliable Web Hosting that is very affordable when comparably compared to other top hosting companies along with service that is worry-free to our clients.
Our technical staff handles everything from... securing your Domain Name (www.YourBusiness.com)... to the setup of your web site on the hosting servers... to configuration and continual delivery of Email to your web site address. Rest assured... You can trust us to do it all and do it right!
Contact us Today to sign up for Web Hosting!
(Fill out our Contact Us Form and we will follow up with your request)
Atlanta, GA Web Designers - Web site designers specializing in Web Design & Construction, Web Hosting, and Internet Marketing & Promotion.
---